The road to your state of flow starts here.
Friday Physical Therapy is built on the premise that we are each capable of reaching an optimal state of being. A state of flow is defined as a state in which the mind and body function in harmony, and at its peak: an "optimal state of consciousness where we feel our best and perform our best" (Csikszentmihalyi 1990). The concept can be applied to walking with an effortless, pain free gait following injury or surgery. It can manifest in athletic performance in which power that originates from an integrated motor pattern results in effortless ease of movement, yet PR level performance. It can also be exemplified in artistic performance, unencumbered by physical limitation, anticipation of pain, or pressure to perform.
In our clinic, we seek to provide each individual with a customized approach to her or his goals for rehabilitation, activities of daily life, recreational activity, or elite level performance. In order to achieve best results, we listen and work closely with various healthcare providers, coaches and trainers in the community to advocate for your needs.
Allyson Friday, PT, DPT, OCS
Founder/Physical Therapist
Allyson Friday is a board certified physical therapist specializing in outpatient orthopedic rehabilitation.  She earned her undergraduate degree at Columbia University with coursework in pre-medical studies and philosophy, and swam 4 years Division I for Columbia. She continued the study of philosophy at Teacher's College, earning a Master's in Philosophy and Education.  It was during this time that she began her life long study of how we come to know what we know, both of ourselves and our environment, and how we move through this world. She brings this perspective into the treatment room with the assessment of every ailment. Allyson is known for unraveling the complicated story behind what may appear to be isolated shoulder pain, neck pain, or low back pain, when in fact, there is a deeper story.  This approach results in healing complex underlying impairments, resulting in optimal function and performance.
Allyson earned her clinical doctorate in physical therapy at Duke University. With over 12 years of experience, Allyson is a Certified Orthopedic Specialist, and has developed expertise in operative and non-operative shoulder and knee rehabilitation, pelvic floor and core integration, neck and back pain and headaches. She enjoys treating all physical ailments, at every age and activity level. Allyson has a keen eye for motor pattern training and identifying movement dysfunction. Her treatment modalities include manual therapy, trigger point dry needling, piston breathing science, pain science, specific exercise, Body Intuitive, and Integrative Manual Therapy.
Allyson is the founder of Friday Physical Therapy.  She is a recognized expert in all things shoulder, especially as it relates to swimming. Allyson views injury as an opportunity to take our knowledge of our own body and movement patterns to a deeper level, a level at which we can find our flow.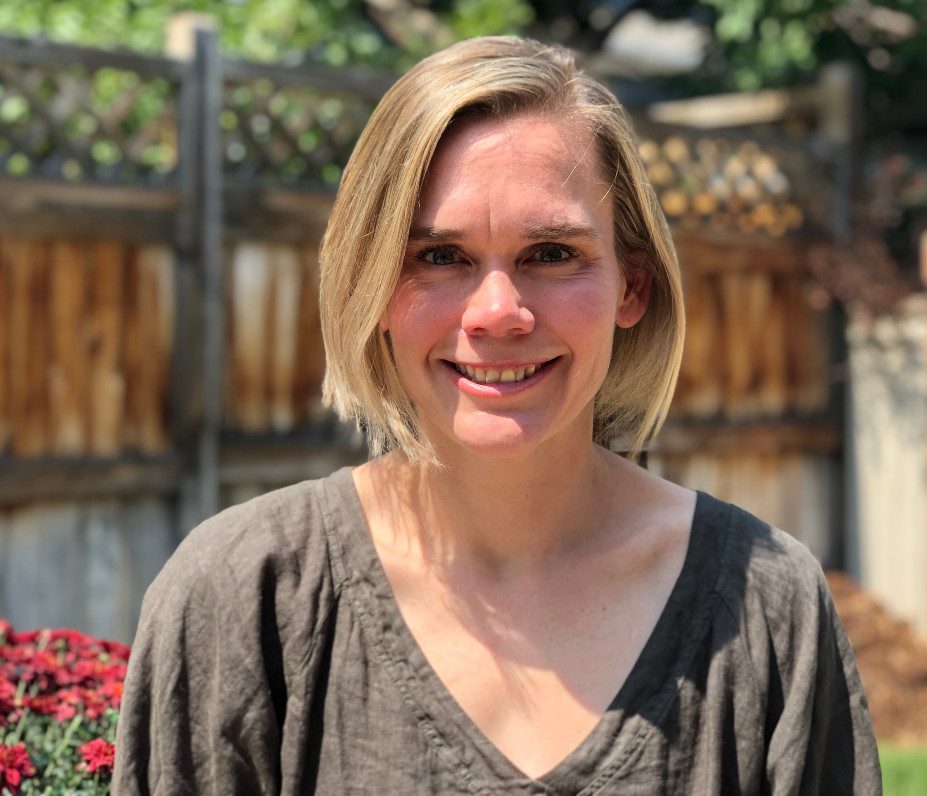 Erin Brooks, PT, DPT, NCPT
Physical Therapist/Pilates Instructor
Erin Brooks is a board-certified physical therapist and Pilates instructor, specializing in
outpatient orthopedic rehabilitation and Pilates method training. She earned her B.A. at
Luther College in Decorah, IA with coursework in biology and mathematics. During her
undergraduate career, she became fascinated with geometry, physics, anatomy and
biomechanics: the foundation of movement. She also competed for 4 years in varsity
cross country and track and field, qualifying for multiple national meets in cross country
and the 3000 meter steeplechase on the track. All of this led her to physical therapy
and ultimately, Pilates.
Erin earned her doctorate in physical therapy at the University of Colorado Denver and
her Pilates teacher training at The Pilates Center in Boulder, CO. With more than a
decade of experience, she has developed expertise in operative and non-operative hip
rehabilitation, pelvic floor and core integration, low back pain and dysfunction in the foot
and ankle. Early in her career, a mentor told her: "wherever the patient hurts, that is the
last place you look for the source of the pain." This principle stuck with her. Erin excels
at the challenge of complex cases and unexpected diagnoses.
Joseph Pilates once said:
"Contrology (Pilates) develops the body uniformly,
corrects wrong postures, restores physical vitality,
invigorates the mind, and elevates the spirit."
Throughout her life, Erin has participated in and explored many sports and fitness
challenges. Following a major back injury in 2011, she personally discovered the magic
of Pilates. This rigorous system of exercise and equipment was brilliantly designed by
Joseph Pilates to create proper alignment and flawless movement patterns. Erin found
it fascinating and integrated into both her physical therapy rehabilitation practice, and
into her exercise instruction. Pilates training with Erin, indeed, "elevates the spirit."
Kristine Bellinger, PTA, CPI, RYT
Movement Educator
Healing is a journey and even our most painful experiences have something to teach us. Kristine's own experience with injury and chronic pain ultimately led her on a path to help heal and inspire others. With degrees in both Psychology and Physical Therapy as well as a comprehensive background in several different movement disciplines, Kristine applies evidence-based practices in rehabilitation and movement education with a soft, empathetic heart.
"Not just your body, but your entire experience is unique. I believe that true, lasting healing can only come from an integrative, individualized, and personalized approach. I help clients find the path that is right for them and it is often one that extends beyond the physical body. Alignment, balance, and injury prevention come from much more than exercise. I support the client in finding the right tools that will take them to the next level of health and empower their whole being - mind, body, and spirit."
With 9 years of outpatient orthopedic clinical experience, Kristine is a licensed PTA and Certified Pilates Instructor ready to support you on your own unique journey to healing. She has a specialization in pelvic floor dysfunction and pain through training at the Herman & Wallace Pelvic Rehabilitation Institute. In addition to women's health, she also specializes in older adult fitness/balance, foot fitness, and treating low back pain.
Kristine lives in Boulder and enjoys fly fishing, archery, yoga, Pilates, snowboarding, comedy, music, reading, and cooking.
Kay Holthaus
Office Manager
Kay Holthaus is the administrative wizard for Friday Physical Therapy. She started her career as a retail manager, but soon found that she had a knack for office work. While she isn't working, she enjoys baking, spending time with her newborn daughter, and watching sports with her husband. She is honored and excited to be a part of all of the great things Friday Physical Therapy is doing and will continue to do.